Following are links to organizations and resources, news sources, books, films, shopping suggestions, and alternative travel options.
Selected Background Reading:
Ali Abunimah, One Country: A Bold Proposal to End the Israeli-Palestinian Impasse
Hanan Ashrawi, This Side of Peace (political memoir)
Anna Baltzar, Witness in Palestine: A Jewish American Woman in the Occupied Territories
Phyllis Bennis, Understanding the Palestinian-Israeli Conflict: A Primer
Noam Chomsky, The Fateful Triangle: The United States, Israel, and the Palestinians
Mahmoud Darwish, Unfortunately, It Was Paradise: Selected Poems
Amira Hass, Drinking the Sea at Gaza: Days and Nights in a Land Under Siege
Rashid Khalidi, Palestinian Identity
Joel Kovel, Overcoming Zionism: Creating a Single Democratic State in Israel/Palestine
Benny Morris, Righteous Victims: A History of the Zionist-Arab Conflict,1881-2001 and The Birth of the Palestinian Refugee Problem, 1947-1949
Ilan Pappe, The Ethnic Cleansing of Palestine and A History of Modern Palestine
Tanya Reinhart, Israel/Palestine: How to End the War of 1948
Joe Sacco, Palestine (comic / graphic journalism)
Edward Said, The Question of Palestine or any of his many other books
Lynd Staughton, Editor, Homeland: Oral Histories of Palestine and Palestinians
Sandy Tolan, The Lemon Tree: An Arab, A Jew, and the Heart of the Middle East
Michel Warschawski, On the Border (political memoir)
Films about Palestine:
The Chicago Palestine Film Festival has a pretty extensive database of Palestinian films on their website, so if you're thirsting for more, check it out.
Arna's Children, Juliano Mer Khamis documentary about a theatre group that was established in Jenin refugee camp by Arna Mer Khamis (the director's mother, and a Jewish Israeli who married a Palestinian in the 1950s). Footage from 1989-1996, and 2001, often following the same kids/men throughout the years.
Ford Transit, Hany Abu Assad director combines documentary and fiction as he films taxi-van driver Rajai speeding through checkpoints and dabbling in pirated CDs on the side. The documentary also offers backseat interviews with politicians, psychologists, filmmakers, and ordinary folks.
Frontiers of Dreams and Fears, Mai Masri ­ documentary about the lives of a group of Palestinian children growing up in refugee camps in Palestine and Lebanon. The film focuses on two teenage girls and combines daily teenage worries with the wider context in which they live. Filmed in 2000 as Israeli troops withdraw from Lebanon and as the second Intifada begins in Palestine
Slingshot Hip Hop brings together the stories of young Palestinians living in Gaza, the West Bank and inside Israel as they discover Hip Hop and employ it as a tool to surmount divisions imposed by occupation and poverty. From internal checkpoints and Separation Walls to gender norms and generational differences, this is the story of young people crossing the borders that separate them.
Downloadable BDS FAQ Poster and FAQ Text Document with many common arguments against BDS and responses to them & BDS Card (image below):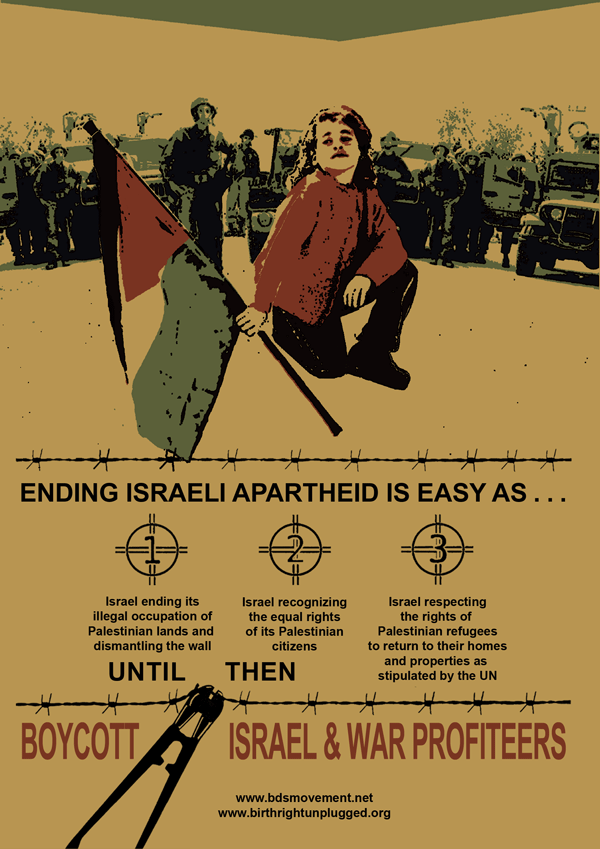 Boycott/Divest/Sanction Israel (BDS)
It worked in South Africa, it can work in Palestine.
Palestinian Boycott and Divestment resources:
Israeli Boycott and Divestment resources:
Partial List of Global Boycott and Divestment initiatives and resources:
Buy Palestinian products and promote their sale in your communities:
More Organizations and Resources:
Palestinian Organizations:
Israeli Organizations:
International Organizations in Palestine:
US-Based and International Organizations & Resources
Alternative Travel Options:
Birthright Unplugged is not able to accommodate all travelers who would like to visit Palestine on our programs. Below are a number of organizations we recommend to assist you in planning your travel in Palestine. You might want to check out Palestine and Palestinians, a travel book for justice tourism. You may also look at Alternative Tours in English, a site that includes some of the opportunities listed below, as well as a few others. Israeli travel restrictions make it nearly impossible to enter and to leave Gaza at this time and we regret that we are unable to assist with travel to this region.
PALESTINIAN ORGANIZATIONS
ISRAELI ORGANIZATIONS
Breaking the Silence is a group of ex-soldiers, most of whom served in Hebron, who are speaking out about what they saw and did while there. They give half-day tours of Hebron in which they talk about what they did there and also meet with Palestinian families in the city who are affected by settler and soldier violence.
The Israeli Committee Against House Demolitions (ICAHD) gives half-day tours of East Jerusalem, including issues of house demolition, the Wall, settlements, and more.
Jerusalem Reality Tours Half, full and multi day tours take you to a variety of places at the heart of the conflict allowing you to interact with communities around Jerusalem including refugees, settlers, Beduin, Mizrahi Jews and understand not only the political aspects of the conflict but also the complex human realities.
Zochrot ("Rememberers") is an Israeli organization that works with Palestinian communities within Israel to remember the Nakba (1948) and the destroyed villages that these communities are from. They visit the villages and place signs on the land, commemorating and honoring the past in an attempt to move forward and create peace in the future.